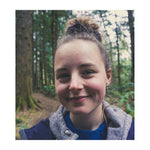 Sarah Haglund is a graphic designer who has been working with Aleksa as she transitions her brand from White Goat Coffee to Ascent Coffee. Sarah's whimsical, rustic, and perfectly imperfect creations have been an excellent fit, not only with what Ascent Coffee is becoming but also with Aleksa herself.

We chatted with Sarah about her style, her inspirations behind the Ascent Coffee art, and her new puppy Walter.
Tell me a little about how you came to be a graphic designer?
I never considered myself academic in Math, English, Science, and Social studies, but I thrived in Drama, Ceramics, and 2D Art because that is where I felt I could express myself. By grade 12, my art calling happened, and I knew I was interested in pursuing a creative field of work. I took a gap year and then went to the IDEA School of graphic design and illustration at Capilano University. It was the most amazing program I could have asked for; it felt like an art boot camp at Hogwarts because there were only 17 of us, and we were at school all the time together. I studied there for four years and got a bachelor's in visual communication design. My graduation of 2021 wrapped up with finishing a practicum with Danica Studio, which focuses on pattern design and later, I was an intern for MEC as their in-house illustrator. But my current status is freelance, and I have loved the freedom and flexibility it offers.
How do you describe your unique style?
I was heavily influenced by Dr. Seuss and any illustrator who does whimsical cartoon-like styles I am all in. I am constantly inspired by friends and other artists online, but what makes my work mine is that it is rustic, imperfect, quirky, and playful, just like me. My personality is goofy and maybe child-like in some ways, and I think it shows through my artwork. I am not a realist, and I prefer to draw cartoons and make them my own.
What was your first impression of Aleksa?
She is so nice, down-to-earth, easy to talk to, and just human. Even though we have only virtually met twice over zoom and otherwise just talked over text and phone calls, it feels like we are friends living in different places and are both navigating together through each project. She never makes me feel below herself or not worthy, and if anything, she is too sweet because when I ask for feedback, she just likes everything I do! Lol. 
How did her personality influence your portrait of her?
I wanted her portrait to feel outdoorsy, rustic, and a bit textured but thoughtful and handcrafted. She is a gorgeous person inside and out, and my goal was to convey that through her portrait and keep it light and simple while emphasizing the beautiful smile she has because she is so warm and welcoming and has such a friendly demeanour.
What inspires your designs for Ascent Coffee?
When creating the artwork for Aleksa, I was heavily influenced by and focused on her brand's core values, such as quality, community, and ethically sourced. I made inspiration boards that revolved around the theme of whimsical, rustic, handcrafted, quirky, and good quality. I wanted to reflect Aleksa's mission and brand as well as I could through the illustrations and designs. 
Your images for the different blends are fantastic and fun! What have you enjoyed about the process of creating them?
I think the fun part was trying to create and tell a story through my artwork for each one because every design is unique and reflects the Terrace landscape and the community of people who enjoy outdoor activities. 
What story does the banner image on the Ascent Coffee website tell?
The banner reflects the hard-working people harvesting the coffee in the hills of Brazil, Ethiopia, Guatemala, and Peru. It also shows Aleksa's little coffee cabin tucked away in nature, surrounded by an outdoorsy community of passionate coffee folk.
Have you tried Ascent Coffee? 
I have tried one roast, but I am not 100% sure what it was. I am no coffee connoisseur, but I think it was a dark roast. I am not a big coffee drinker myself, and when I do have coffee, it's the size of an espresso shot, and I like milk and a lot of sugar in it. When I opened the coffee bag from Aleksa, I couldn't have imagined such a nice tasty smell; I just wanted to breathe it in all day.
How often do you create just for yourself? Why is that important to you? 
I don't create a lot for myself these days. It is easy to fall into the trap of not doing artwork for yourself and only for other people. But I have a collection of ideas and doodles I keep on my phone and in my sketchbook that I would like to illustrate and share with other people. I think it is important, and I would like to do more of it because it is very therapeutic and good for the soul. I would like to put more emphasis on practicing my craft and making time to have fun and just play with paint and pencils in my sketchbook.
Who is Walter?
Walter is my puppy; he sounds like an old man but is only five months old. He is an English Springer Spaniel with lots of energy but has tons of love to share around. And has a heart shape on his head.
Need some of Sarah's artwork to personalize your coffee mug?
You can purchase Ascent Coffee stickers with Sarah's artwork on our website here.
If you're feeling creative and want to whip up your own stickers, we love the company we've been working with - Sticker Mule.
Curious to learn more about Sarah and her work? Connect with her here: