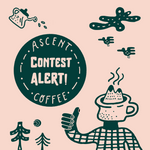 Five years in business and a new name? It must be time to celebrate by giving you the chance to win Ascent Coffee for a year! Will the lucky winner be you?
This contest was inspired by some clever and witty friends who celebrated the name change by sending in their suggestions (unprovoked) for new Ascent Coffee taglines:
'Whether climbing a mountain or climbing out of bed, you can count on Ascent to get you on the right path.'
'I used to climb mountains for the ascent; now, I can drink it from a cup.'
Now it's your turn to submit your best, hilarious, inspiring, and creative ideas for what Ascent's tagline should be. 
Contest submissions will be accepted until April 22nd. I will narrow down my favourites, and you'll be able to vote on them on Instagram. A winner will be announced on May 4th. 
This contest is only open to residents of British Columbia. 
>>> ENTER HERE <<<