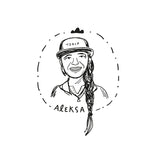 You may wonder about who roasts your beans. You may not. You may be so lost in the rich flavour of your cup of Ascent coffee that you couldn't care less how it came to be - and that's fantastic. But for those curious cats out there, please meet Aleksa.
Aleksa and her husband moved to Terrace in 2016 from the lower mainland. Leaving behind her dream job working as a buyer for a major national outdoor retail company, she had no idea what lay ahead, other than mountain adventures, new friends, and a lot more snow. 
If you had asked her at the time if she was on the verge of becoming an enthusiastic and skilled coffee roaster, she might have been a little confused. She was only a casual coffee drinker - and wasn't too picky about it. Instead, she brewed cider in her basement and dove headfirst into the local mountain bike community. In fact, (pre-pandemic) you'd be hard-pressed to find a mountain biker in Terrace who didn't know her name. You can find her smiling face (usually under a flat brim hat) everywhere from hands-on trail maintenance days to helping guide the direction of riding as Vice-President and Trails Director of TORCA.  
Photo: Scott Reimer
Although she's an accomplished rider with 25 years under her belt, Aleksa is more likely to stop and visit with friends trailside than try for any speed records. She loves a trail that can humble her and she's awkward AF at jumps (her words). Not afraid to skip work on a sunny day or a snow day, she says, "The most important thing I've learned about living in Terrace over the last five years is that you have to get after it while you can because the sun doesn't shine forever. Or, like, almost never at all."
Photo: Meredith Lewis
When coffee finally found Aleksa - and a roaster ended up in her yard - her typical can-do attitude meant she rolled up her sleeves and got to work. From courses to coffee sensory tools, Aleksa has honed her taste buds to enhance her roasting skills. But as an avid lifelong learner, she knows this is a realm she will be exploring as long as she's caffeinating your lives. One thing she's sure of is that she'll never be a coffee snob, her beans are all about inclusivity and community building. 
Since she became the sole proprietor of her coffee company just before the pandemic hit, Aleksa has made 'Ascent' her mantra - and new company name. Onwards and upwards and always one foot in front of the other. 
Fun Aleksa Facts:
Her favourite adventure partner is her husband Fletcher

Her constant companions are two four-legged buddies that can't be bothered to listen

She's an introvert (if you know her, you may think this is crazy)

Shredding bikes at golden hour is the thing that lights up her heart
Photo: Tanya Reedy
Connect with Aleksa:
https://www.instagram.com/abikelife/