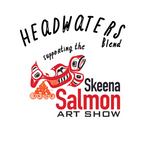 The summer of 2018 marked the first Skeena Salmon Arts Festival - something that has become a much-anticipated event in Terrace each year. 
The festival celebrates salmon through art, intending to beautify Terrace with public art initiatives and raise awareness of salmon as the foundation of many local communities along the Skeena. 
"The Skeena Salmon Arts Fest has been an excellent community-building exercise over the last five years," says Dave Gordon, City Councillor and President of the Skeena Salmon Art Festival Society. "We've been able to link settlers, First Nations, and communities across the Northwest through their love of salmon as expressed through art. It also provides a positive conservation tool to bring awareness around salmon issues to everybody in the Northwest."
The community collaboration is supported by a collection of local groups, organizations, and people who share the vision. Ascent Coffee is proud to be one of the supporters. 
In 2019 alone, the festival generated five new murals throughout Terrace. It also included the Downtown Banner Art project, YXT public art sculpture, Millennium Pathway Salmon Migration project, and youth-painted salmon installed on fences. Additionally, the Terrace Art Gallery Exhibit featured over 100 pieces of salmon art - paintings, carvings, jewelry, and sculpture - by over 70 different artists. 
In support of this year's festival, Ascent Coffee will again produce its popular - and limited edition - Headwaters blend. 10% of proceeds from the sale of each package of beans will be donated to the SSAF. 
"The Headwaters blend and Ascent Coffee have really helped in terms of promoting the festival," says Dave. "They've used regional artists' artwork on their labelling, which has been a great honour for the artists. I have great respect for the work that Ascent does in our community. They're a great small business supporting the arts, mountain biking, and the ski hill - all the things that really connect our community together."
This year, the Skeena Salmon Arts Fest logo features the work of Haida artist, Alfred Davidson.
If you're visiting Terrace, make a point of stopping to see some of the incredible murals. The art exhibit will also be available to visit in Hazelton and Smithers throughout the fall. 
Once again, Headwaters is available to purchase online for pickup, local delivery or shipping. $2 from every pound sold will be donated to support arts in the community of Terrace. Last year alone Ascent Coffee donated $750 to the Skeena Salmon Arts Festival from the sales of this blend. And don't forget, it's only available for a limited time.