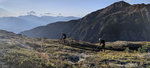 Our #brewgood series is back for 2021! First up in our long list of amazing local community organizations we aim to support is the Terrace Off-Road Cycling Association.
Fletch and I have both volunteered for TORCA for the past 4.5 years (and for other MTB advocacy groups for years prior to moving to Terrace) . We see, first-hand, the amount of work a large group of passionate volunteers dedicates to develop and maintain an amazing trail network for bikers, hikers, trail runners, snowshoers, and dog walkers to enjoy. If you've walked around Hey Bear!, biked Steinhoe or run up Flathead, you've accessed trails that have been planned, built and maintained primarily through volunteer effort. It takes blood, sweat, tears ... and money to keep these trails alive. That's why we launched the Whistle Pig Espresso. 10% of sales from this blend will be donated to TORCA for a special trail rehabilitation project on Maroon Mountain. 
To learn more about TORCA (and maybe buy a membership 😉) , visit: www.torcanorth.com. To get your hands on a tasty bag of our new Whistle Pig Espresso, click here.