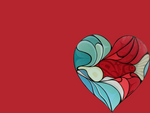 For its 3rd year, the Skeena Salmon Arts Fest (SSAF) is back with a new art show to foreground care and compassion during the pandemic. The Skeena Salmon heARTs Show is an exhibition and online fundraising auction of works on wooden hearts at three galleries in the Skeena Watershed: Terrace Art Gallery, Misty Rivers Arts Centre and Smithers Art Gallery. The auction runs from August 1-30th. 
We partnered with the SSAF this year to showcase the artwork of four local artists on our Headwaters label.

The second submission, selected by the SSAF Committee is Michelle Stoney's Sockeye Heart
acrylic on wood / 16"

Artist's Statement:
This is a painting of a sockeye salmon swimming upstream. This represents how resilient the north has been during this pandemic.






About Michelle Stoney, Gitxsan Artist.


I create art because it's a way for me to connect with my culture. My inspiration comes from my late grandfather, Victor Mowatt. I use Northwest Coast form line in every work I accomplish. My goal as an artist is to create unique First Nations art. My work signifies the past, present and future. I take pleasure in trying to produce something that has never been done before.
My mother is Gitxsan and my father is Cree. I was raised in the Gitxsan tradition my whole life. Being raised by a single mother, I never had the opportunity to learn my Cree culture. While studying at Emily Carr University, I took the opportunity to research Cree artists and incorporate some Cree influences into my work. The form line is taken from my Gitxsan heritage; the bright colors and black outlines are taken from my Cree heritage. By incorporating two distinct First Nations' cultures, I feel that I am contributing positively to the future of First Nations' art.
I was raised in the Gitxsan territory, in the house of Delgamuukw. I work mainly in the medium of acrylic painting and metal sculpture. I completed my Bachelor of Fine Arts degree from Emily Carr University of Art and Design in 2012 and was awarded the YVR Art Foundation award in 2009. With the teachings of my late grandfather, Victor Mowatt, I moved back to my community and I am currently working on a mountain series of Stygyoden (Roche de Boule) as well as teaching my style of painting to the surrounding villages. 

To see Michelle's work visit: 
https://michellestoney.com/

For information about the Skeena heARTS Auction:  
https://www.facebook.com/skeenasalmonartsfest/

To Bid on Michelle's submission:
Skeena Salmon heARTS show Hazelton

To purchase the Headwaters Blend:  
https://whitegoatcoffee.com/products/headwaters-blend