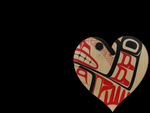 For its 3rd year, the Skeena Salmon Arts Fest (SSAF) is back with a new art show to foreground care and compassion during the pandemic. The Skeena Salmon heARTs Show is an exhibition and online fundraising auction of works on wooden hearts at three galleries in the Skeena Watershed: Terrace Art Gallery, Misty Rivers Arts Centre and Smithers Art Gallery. The auction runs from August 1-30th. 
We partnered with the SSAF this year to showcase the artwork of four local artists on our Headwaters label.
The third submission, selected by the SSAF Committee is Kristen McKay's Ancestry.  
acrylic on wood / 12" 

Artist's Statement:
The Skeena River has housed many different Nations and peoples throughout history. The Northwest Coast art world recently suffered magnificent loss with the passing of Bill McLennan. This piece is dedicated to him and his legacy. I wouldn't be the artist I am today without him.
About Kristen McKay
Kristen was born in Prince Rupert in 1979. Her family is from Lax Kw'alaams. While living in Victoria, she was influenced by the culture and teachings of the Coast Salish people. These experiences inspired her to return to Tsimshian territory to learn about the history, stories and culture. In 2013 Kristen moved to the North to attend, and later graduate from the Freda Diesing School of Northwest Coast Art. Since graduation, she has continued to live, work and create in the north. Kristen looks forward to producing more art pieces in the future and sharing the experiences and teachings with future generations. 


To learn more about Kristen and her work, visit: 
https://www.facebook.com/kkmckayartist/

For information about the Skeena heARTS Auction:  
https://www.facebook.com/skeenasalmonartsfest/

To Bid on Kristen's submission:
Skeena Salmon Art Show Terrace

To purchase the Headwaters Blend:  
https://whitegoatcoffee.com/products/headwaters-blend